Custom Metal Hose Fittings
Fitting Specials
Customers approach OmegaOne with special product requests every day. OmegaOne offers custom metal hose fittings and adapters to meet our customer's needs.
Contact the OmegaOne sale team today for help to construct your special fitting needs!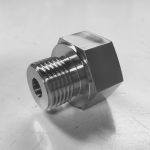 British Thread Reducing Adapter
This British Thread Reducing Adapter is 1/2 male BSPP by -3 SAE Female thread. This adapter required milling to achieve a 30mm hex dimension.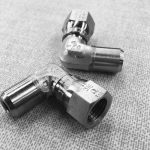 Weld-On Swivel Elbow
OmegaOne made a special 1/4″ BHJS Swivel Elbow for as a special for a metal hose and braid band customer.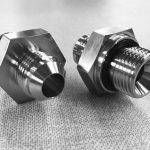 British Thread Connector
This special straight thread connector is a 1/2″ flare tube fitting by 1/2″ British Standard Parallel Port (BSPP) thread, manufactured with a bonded seal.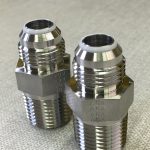 KTX Teflon Seal Flare Fitting
OmegaOne's K-Flare Fitting incorporates a Teflon seal in a groove machined into the nose of a standard flare fitting. The result is secondary sealing surface in addition to the traditional seal on a 37° flare fitting.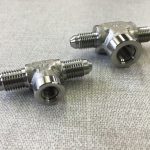 Port Thread Tee Fitting
OmegaOne manufactured a special size 4 male run with a size 6 port branch, TTF for a customer with a 2 week turn around!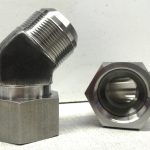 Monel Fittings
OmegaOne has Monel fittings for your special application. We offer short lead-times for these special material and unique fitting configurations.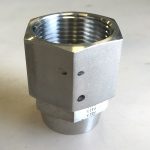 Special BHJS
This special BHJS has two unique features. This fitting was developed for high pressure using a lock wire rather than crimping for the swivel nut with class 3A UNJ threads.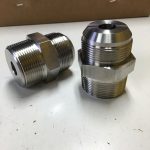 High Pressure Application
We helped our customer calculate special wall thickness for these fittings to meet requirements for high pressure service.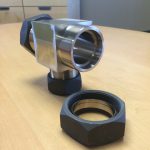 OmegaBite Size 32 Tee
No forging? No Problem!
Our specials team manufactured this tee fitting from solid block when could not obtain a forging for this size fitting.