Metal Braided Ferrules Manufacturer
Solid Weld Band (AMFM Braid Bands)
Braid bands, also referred to as braid sleeves or braid ferrules, are used to retain woven braided sleeves covering corrugated metal hoses. The braided sleeve provides strength to the corrugated metal hose as well as protects the hose from abrasion. The AMFM Braid Band is integral to the process of welding together a metal hose assembly. The AMFM Braid Band retains the braid against the hose for welding together the metal hose and braided sleeve.
The AMFM Braid Band is designed exclusively to accommodate variable factors in hose fabrication. The AMFM Braid Band is a solid band manufactured for hose sizes 3/16" through 2" hose. Braid Band (ID) sizes are manufactured in 0.150" increments from .420" through 3". The AMFM Braid Band is primarily manufactured from 304 Stainless Steel, with availability in 316 Stainless Steel, Copper, and Monel.
The incremental sizing allows the fabricator to select the best width based on the OD of the hose and the type of braided hose covering selected. OD of hose and braid can vary from manufacturer to manufacturer. The use of standard braid, double braid, and or braided braid sleeve all influence which AMFM Braid Band works the best.
Standard and non-standard variants of the AMFM Braid Band are available. The AMFM Braid Band can be manufactured to your specification to serve the specific need of any application.
For complete information regarding the correct methods to fabricate metal hose, it is recommended that you contact your metal hose supplier or a recognized standards organization. NAHAD (The Association for Hose and Accessory Distribution) has published hose assembly guidelines and is a reference organization as well as ANSI, ASME, SAE, and ISO.
AMFM Braid Bands are available with branding providing critical information about your metal hose assembly.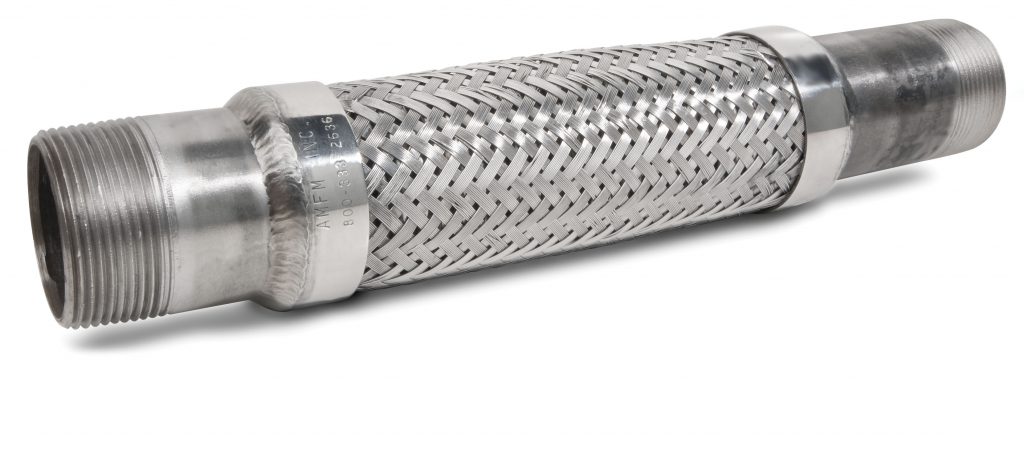 Sizing Braid Bands
AMFM Braid Bands must be sized for each hose and braid configuration. The AMFM sizing gauge was developed exclusively for use with the braided metal hose to indicate the appropriate AMFM Braid Band needed.
Selecting the size from catalog dimensions from the hose manufacturer or measuring the hose without consulting the factory is not recommended. More than one standard size increment will fit a braided hose with a nominal difference, except in smaller hose sizes (under 1"). Double braid hoses generally require the equivalent increase of approximately three standard sizes over the single braid size.
AMFM Braid Bands offer consistent sizing, and in some instances can exceed that of the hose. This may require alternate bands when a very tight fit is used that leaves no ability to consume a minor increase in hose diameter.
When it comes to determining fit size, there are two methods of specification: AMFM Standard Specification or Customer Part Number Control where braid band sizing can be specified by customer requirements or specifications.
Braid Band Tolerance and Variance
Out of Round
Specific tolerances are established for each series of braid bands. These standards are set to ensure each braid band is manufactured to the exact fit size. This ensures that each braid band fits properly on your hose. Out-of-round tolerance varies by series and is qualified at the time of manufacture.
Edge Protrusion (Burr)
Edge protrusion refers to a general edge condition. Options include single point protrusion or burr, with a specification maximum of .0075" and .005", respectively. All edges are burr-free and square.
Edge Variation (Parallel and Square)
Edge is the measurement of the band, perpendicular to ID. Part edge variations can deviate in parallel or part square. Variations can involve a single edge or both. The specification calls for a maximum "gap distance" when measuring concerning ID surface and corresponding perpendicular edge. Gap specifications vary from .010" to .040" depending on part size and material.
---
Specifications & Sizing
---
AMFM Braid Band Widths & Wall
| Series | M | A | B | C | D | E | F | FX | G | H |
| --- | --- | --- | --- | --- | --- | --- | --- | --- | --- | --- |
| | | | | | | | | | | |
| Band Width | | | | | | | | | | |
| 304/316, Monel | 0.375 | 0.50 | 0.625 | 0.625 | 0.75 | 0.75 | 0.75 | 0.75 | 0.75 | 0.75 |
| Copper | 0.375 | 0.50 | 0.625 | 0.625 | 0.75 | 1.00 | | | | |
| | | | | | | | | | | |
| Band Wall | | | | | | | | | | |
| 304/316 | 0.035 | 0.049 | 0.049 | 0.049 | 0.049 | 0.049 | 0.049 | 0.049 | 0.065 | 0.065 |
| Monel | | 0.048 | 0.037 | 0.037 | 0.065 | 0.065 | | | | |
| Copper | 0.049 | 0.049 | 0.049 | 0.055 | 0.055 | 0.055 | | | | |
| | | | | | | | | | | |
AMFM Braid Band ID and Material Type
| AMFM | Fit Size | SS (304) | ST(316) | Copper | Monel |
| --- | --- | --- | --- | --- | --- |
| M-1 | 0.405 | x | | | |
| M-2 | 0.420 | x | | | |
| M-3 | 0.435 | x | | | |
| M-4 | 0.450 | x | | | |
| M-5 | 0.465 | x | | | |
| M-6 | 0.480 | x | | | |
| M-7 | 0.495 | x | | | |
| M-8 | 0.510 | x | | | |
| M-9 | 0.525 | x | | x | |
| M-10 | 0.540 | x | | x | |
| M-11 | 0.555 | x | | x | |
| M-12 | 0.570 | x | x | x | |
| M-13 | 0.585 | x | x | x | |
| M-14 | 0.600 | x | x | x | |
| M-15 | 0.615 | x | x | | |
| M-16 | 0.630 | x | x | | |
| M-17 | 0.645 | x | x | | |
| A-18 | 0.660 | x | x | x | x |
| A-19 | 0.675 | x | x | x | x |
| A-20 | 0.690 | x | x | x | x |
| A-21 | 0.705 | x | x | x | x |
| A-22 | 0.720 | x | x | x | x |
| A-23 | 0.735 | x | x | x | x |
| A-24 | 0.750 | x | x | x | x |
| A-25 | 0.765 | x | x | x | x |
| A-26 | 0.780 | x | x | x | x |
| A-27 | 0.795 | x | x | x | x |
| A-28 | 0.810 | x | x | x | x |
| A-29 | 0.825 | x | x | x | x |
| A-30 | 0.840 | x | x | x | x |
| A-31 | 0.855 | x | x | x | x |
| B-32 | 0.870 | x | x | x | x |
| B-33 | 0.885 | x | x | x | x |
| B-34 | 0.900 | x | x | x | x |
| B-35 | 0.915 | x | x | x | x |
| B-36 | 0.930 | x | x | x | x |
| B-37 | 0.945 | x | x | x | x |
| B-38 | 0.960 | x | x | x | x |
| B-39 | 0.975 | x | x | x | x |
| B-40 | 0.990 | x | x | x | x |
| C-41 | 1.005 | x | x | x | x |
| C-42 | 1.020 | x | x | x | x |
| C-43 | 1.035 | x | x | x | x |
| C-44 | 1.050 | x | x | x | x |
| C-45 | 1.065 | x | x | x | x |
| C-46 | 1.080 | x | x | x | x |
| C-47 | 1.095 | x | x | x | x |
| C-48 | 1.110 | x | x | x | x |
| C-49 | 1.125 | x | x | x | x |
| C-50 | 1.140 | x | x | x | x |
| C-51 | 1.155 | x | x | x | x |
| C-52 | 1.170 | x | x | x | x |
| C-53 | 1.185 | x | x | x | x |
| C-54 | 1.200 | x | x | x | x |
| C-55 | 1.215 | x | x | | x |
| C-56 | 1.230 | x | x | | x |
| D-57 | 1.245 | x | x | | |
| D-58 | 1.260 | x | x | x | |
| D-59 | 1.275 | x | x | x | |
| D-60 | 1.290 | x | x | x | |
| D-61 | 1.305 | x | x | x | |
| D-62 | 1.320 | x | x | x | |
| D-63 | 1.335 | x | x | x | |
| D-64 | 1.350 | x | x | x | |
| D-65 | 1.365 | x | x | x | |
| D-66 | 1.380 | x | x | x | |
| D-67 | 1.395 | x | x | x | |
| D-68 | 1.410 | x | x | x | |
| D-69 | 1.425 | x | x | x | |
| D-70 | 1.440 | x | x | x | |
| D-71 | 1.455 | x | x | x | |
| D-72 | 1.470 | x | x | x | |
| D-73 | 1.485 | x | x | x | |
| E-74 | 1.500 | x | x | x | |
| E-75 | 1.515 | x | x | x | x |
| E-76 | 1.530 | x | x | x | x |
| E-77 | 1.545 | x | x | x | x |
| E-78 | 1.560 | x | x | x | x |
| E-79 | 1.575 | x | x | x | x |
| E-80 | 1.590 | x | x | x | x |
| E-81 | 1.605 | x | x | x | x |
| E-82 | 1.620 | x | x | x | x |
| E-83 | 1.635 | x | x | x | x |
| E-84 | 1.650 | x | x | x | x |
| E-85 | 1.665 | x | x | x | x |
| E-86 | 1.680 | x | x | x | x |
| E-87 | 1.695 | x | x | x | x |
| E-88 | 1.710 | x | x | x | x |
| E-89 | 1.725 | x | x | x | x |
| E-90 | 1.740 | x | x | x | x |
| E-91 | 1.755 | x | x | | |
| E-92 | 1.770 | x | x | | |
| E-93 | 1.785 | x | x | | |
| E-94 | 1.800 | x | x | | |
| E-95 | 1.815 | x | x | | |
| E-96 | 1.830 | x | x | x | |
| F-97 | 1.845 | x | x | x | |
| F-98 | 1.860 | x | x | x | x |
| F-99 | 1.875 | x | x | x | x |
| F-100 | 1.890 | x | x | x | x |
| F-101 | 1.905 | x | x | x | x |
| F-102 | 1.920 | x | x | x | x |
| F-103 | 1.935 | x | x | x | x |
| F-104 | 1.950 | x | x | x | x |
| F-105 | 1.965 | x | x | x | x |
| F-106 | 1.980 | x | x | x | x |
| F-107 | 1.995 | x | x | x | x |
| F-108 | 2.010 | x | x | x | x |
| F-109 | 2.025 | x | x | x | x |
| F-110 | 2.040 | x | x | x | x |
| F-111 | 2.055 | x | x | x | x |
| F-112 | 2.070 | x | x | x | x |
| F-113 | 2.085 | x | x | x | |
| F-114 | 2.100 | x | x | x | |
| F-115 | 2.115 | x | x | x | |
| F-116 | 2.130 | x | x | x | |
| F-117 | 2.145 | x | x | x | |
| F-118 | 2.160 | x | x | x | |
| F-119 | 2.175 | x | x | x | |
| F-120 | 2.190 | x | x | x | |
| F-121 | 2.205 | x | x | x | |
| F-122 | 2.220 | x | x | x | |
| F-123 | 2.235 | x | x | x | |
| F-124 | 2.250 | x | x | x | |
| F-125 | 2.265 | x | x | x | |
| F-126 | 2.280 | x | x | x | |
| F-127 | 2.295 | x | x | x | |
| F-128 | 2.310 | x | x | x | |
| F-129 | 2.325 | x | x | x | |
| F-130 | 2.340 | x | x | x | |
| F-131 | 2.355 | x | x | x | |
| FX-132 | 2.370 | x | x | x | |
| FX-133 | 2.385 | x | x | | |
| FX-134 | 2.400 | x | x | | |
| FX-135 | 2.415 | x | x | | |
| FX-136 | 2.430 | x | x | | |
| FX-137 | 2.445 | x | x | | |
| FX-138 | 2.460 | x | x | | |
| FX-139 | 2.475 | x | x | | |
| FX-140 | 2.490 | x | x | | |
| FX-141 | 2.505 | x | x | | |
| FX-142 | 2.520 | x | x | | |
| FX-143 | 2.535 | x | x | | |
| FX-144 | 2.550 | x | x | | |
| FX-145 | 2.565 | x | x | | |
| FX-146 | 2.580 | x | x | | |
| FX-147 | 2.595 | x | x | | |
| FX-148a | 2.610 | x | x | | |
| FX-148b | 2.625 | x | x | | |
| FX-148c | 2.640 | x | x | | |
| FX-148d | 2.655 | x | x | | |
| FX-148e | 2.670 | x | x | | |
| FX-149a | 2.685 | x | x | | |
| FX-149b | 2.700 | x | x | | |
| FX-149c | 2.715 | x | x | | |
| FX-149d | 2.730 | x | x | | |
| FX-149e | 2.745 | x | x | | |
| G-150 | 2.750 | x | x | | |
| G-151 | 2.765 | x | x | | |
| G-152 | 2.780 | x | x | | |
| G-153 | 2.795 | x | x | | |
| G-154 | 2.810 | x | x | | |
| G-155 | 2.825 | x | x | | |
| G-156 | 2.840 | x | x | | |
| G-157 | 2.855 | x | x | | |
| G-158 | 2.870 | x | x | | |
| G-159 | 2.885 | x | x | | |
| H-160 | 2.900 | x | x | x | |
| H-161 | 2.915 | x | x | x | |
| H-162 | 2.930 | x | x | x | |
| H-163 | 2.945 | x | x | x | |
| H-164 | 2.960 | x | x | x | |
| H-165 | 2.975 | x | x | x | |
| H-166 | 2.990 | x | x | x | |
| H-167 | 3.005 | x | x | x | |