OmegaOne is a premier provider of fittings including stainless steel tube and pipe fittings, and AMFM braid bands. There are a lot of reasons why OmegaOne is one of the best manufacturers of steel fittings.
Why Customers Love OmegaOne
OmegaOne is an ISO certified stocking manufacturer of stainless steel fittings serving a wide variety of customers and countless end markets.
We are know for our generous inventory, short lead times. There are a lot of companies who make our products. What OmegaOne is know for best, is how we support our customers day in and day out.
An Urgent Request
Late on the eve of Thanksgiving, the President of OmegaOne received a call on his mobile phone while he sat in an airport lounge drinking a glass of wine with his wife while they waited to board his flight home to visit his family.
He recognized the number was likely a customer, so he answered the call. It was a customer in frantic need of a unique fitting which OmegaOne did not manufacturer. The customers, current supplier had just provided notice of a dramatic price increase for these fittings so steep he could not pass it on to his customer and threatened this business altogether.
The President assured his customer he would look into the project immediately and evaluate the ability of OmegaOne to step in and help the customer retain the business with this important account.
OmegaOne was able to review specifications and production requirements to put together a cost effective production plan to manufacture this uncommon fitting meeting the cost targets and spinning up production to meet an urgent deadline. However, this was just the start. The customer;s end user had never heard of OmegaOne as opposed to the nationally know incumbent manufacturer.
Working together, OmegaOne supported their distributor providing detailed information about OmegaOne, our quality program history and even produced a small lot of sample parts in a few business days to offer as support of OmegaOne responsiveness and manufacturing abilities.
All the effort resulted in beating delivery times and hitting cost targets ending up with a satisfied customer and end user.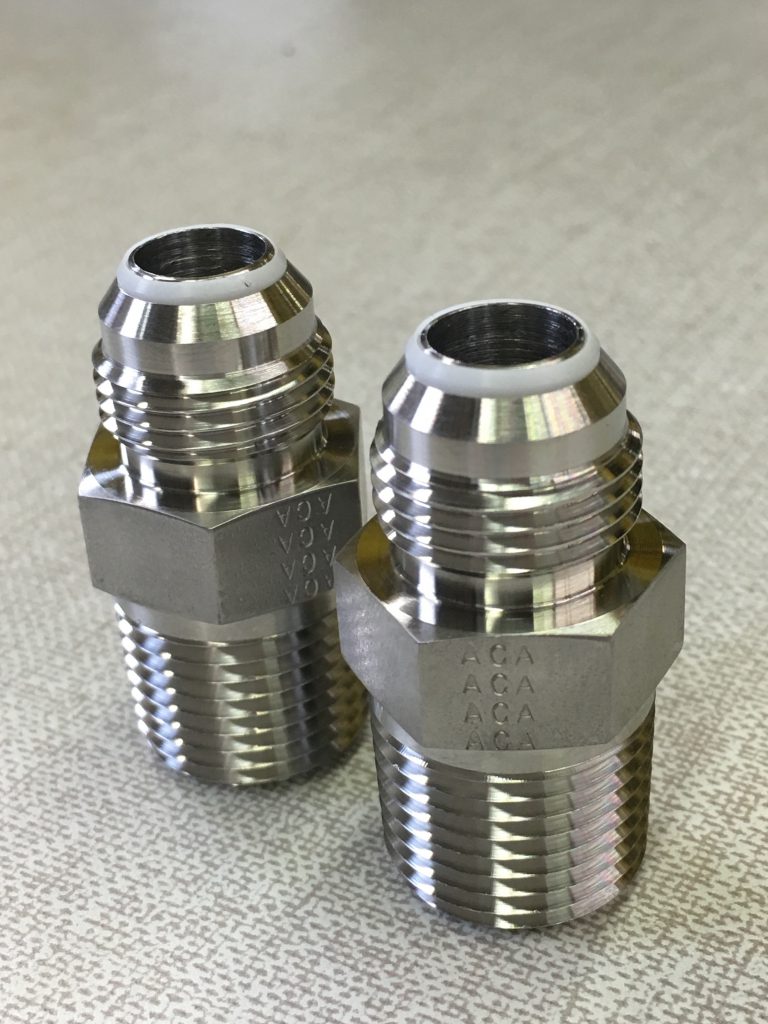 The product OmegaOne put into production is what is now referred to as the OmegaOne K-Flare, a version of a KC style flare fitting that adds a Teflon seal to the nose of a standard OmegaFlare fitting for an enhanced sealing surface.
OmegaOne manufactures this fitting in several configurations, and we've been making that product for a couple of years.