OmegaFlare Flare Fittings
OmegaFlare is the flare fitting line produced by OmegaOne. OmegaFlare is are a three-part fitting. This fitting is commonly known as the JIC, which standed for Joint Industry Council. The three main components to the flare fittings are the body, the ferrule, and the nut. These three parts work together to create a metal to metal seal when the nut pulls together flared tubing, with the sleeve and fitting body.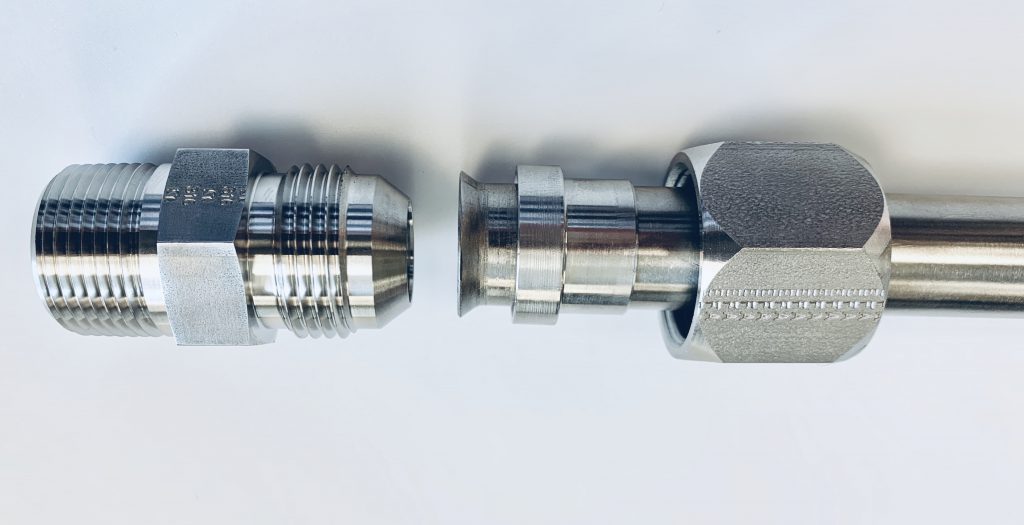 To assemble a flare fitting, first the nut and sleeve must be placed over the tubing. Once the sleeve and nut are in place on the tube, the tube must be flared. There are two ways to flare tube, by hand or using a hydraulically operated flaring equipment.
OmegaFlare Applications
Flare fittings common due to its simple construction and usability. Flare fittings are ideal for hydraulic applications. Typically, pressures ranging from 2,500 to 10,000 PSI. Flare fittings are ideal for joining both hydraulic tube and hose systems. Applications include Petro-chemical, fertilizers, water, and other fluids.
The seal on the OmegaFlare fittings is reliable as long as there are no imperfections on the parts such as and debris or damage to the ceiling surfaces, the ceiling is compromised.
Limitations of Flare Fittings
The flare fitting is not recommended for applications that require constant dis-assembly and reassembly because the sealing surface is subject to damage during the process of loosening and re-tightening. Repeated loosing and re-sealing will wear the sealing surface, making the seal less reliable. To flare tubing there are limitations for wall of the tubing. Heavier wall tubing is difficult to flare and thus is not ideal for this application. Flare fittings work best with light to medium wall tubing.
---
If you have any questions about using OmegaFlare Flare Fittings for your application, our customer service and sales team would be happy to assist you! Contact us today with any questions or concerns or to place an order.