At OmegaOne, we manufacture stainless steel hydraulic fittings and adapters. We pride ourselves on our ability to provide our customers with standard, custom, easy fittings with top quality and material traceability.
We make a variety of fittings in sizes from 1/8 of an inch through 2 inches. All of our products are manufactured domestically in the United States.
Common Fittings We Manufacture:
OmegaFlare, JIC/37-degree Flare Fitting
OmegaBite, Bite Type Flareless Fitting
OmegaPipe, NPT pipe and NPSM swivel Fittings
OmegaHose, Hydraulic Hose and Metal Hose Fittings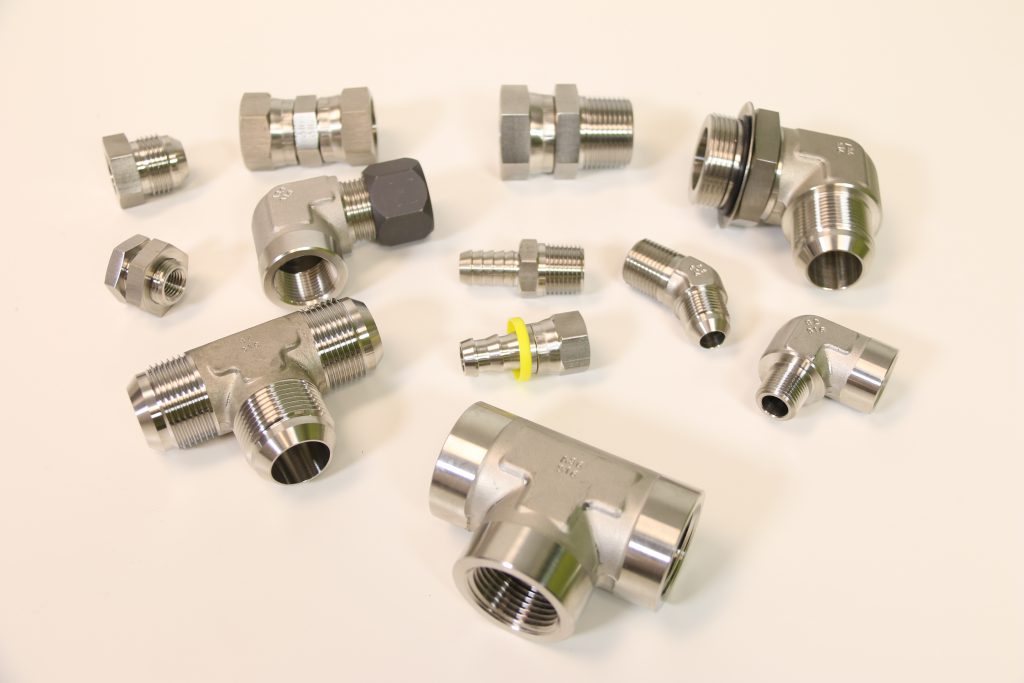 OmegaOne focuses on being a solution provider, and we have excellent availability. Our lead times are the shortest in the industry, and we keep a generous inventory.
OmegaOne Manufactures the AMFM Braid Band
OmegaOne is the manufacturer of the original AMFM Braid Band. Originally introduced by AMFM Incorporated, OmegaOne became the manufacturer following the AMFM, OmegOne merger. The AMFM Braid Band, revolutionized the hose fitting industry. Braid bands are used for welding together industrial metal hoses.
OmegaOne Offers Special Fittings
As our goal is to provide our customers with fitting solutions, we created the braid band fittings, have a huge inventory, and we stock many of the specialty fittings that other major suppliers do not.
We have a department that will work with customers when they need a custom jump size or jump sizes that aren't as common for other companies to stock. We have the ability to do shorter runs. We make fittings easy!